If you are a bow hunter and are trying to find hunting clothes that work for most of the archery season, are quiet, durable, flexible, and shed light rain and snow; then you will want to read my Asio Gear Mid-Season Bow Hunting Clothing review below. Finding quality hunting apparel at reasonable prices is hard to do when there are so many options out there and I wanted to field test a small brand that focuses on making gear specifically for treestand bow hunting.
In August, I was looking for an early-season lightweight hoodie and I ended up reviewing two of them. I compared the Sitka Core Lightweight Hoody and the Asio Lightweight Hoodie. I liked both but ended up wearing the Asio hoodie over and over due to the warm fall we had. I had never heard of the brand before and liked the idea of comparing a small brand to a big one and it really paid off with the hoodie purchase. I really liked it.
This made me want to take a longer look at the Asio mid-season collection to see if the same quality was there. I used it through multiple hunts this season, climbed a lot of trees, busted a ton of thick brush, and even got caught up on the mountain in a downpour wearing some of it. You can watch the video review below or continue down the page to read everything I learned about this gear this past archery season.
Asio Gear Mid-Season Collection Review
Asio's mid-season clothing is listed on their website as bow-hunting clothing that will work in temperatures from 38-60 degrees. They claim that all of their gear is treated with the maximum level of Durable Water Repellent (DWR), is quick-drying, and uses high-end zippers. All of the gear I tested used their primary camouflage, the Whitetail Treestand Hunting: Asio Raptor Camo. The camo "was inspired by the feather pattern and blend of the most majestic tree predators and master of camouflage, the owl."
Scent Control
In all of Asio Gear's product descriptions for the gear that I tested, they say that the product is "Antimicrobial for scent control." I thought this was fairly vague, so I emailed them and asked them specifically about what this meant. Joe Miles, the owner of Asio Gear, actually replied to me himself and said, "we use an ActiveX antimicrobial on all of our fabric from our early season to all the fabrics on the late season garments – this treatment is done to the fabric before it is sewn into a finished garment. The treatment is good for the life of the product and re-releases as the garments are washed. Pretty High-speed stuff."
I have to agree. That is pretty high speed and tells you a lot about the focus on quality from Joe and the company. If you want a product that has a quality scent control application, you can't do much better than this.
Asio Early Season to Mid-Season Gear Test
I broke down the mid-season gear I tested in two phases. The first phase was the gear that I thought worked well transitioning from the early season into the mid-season where temperatures range from 40-60 degrees. I tested the Asio Midweight Hoody, the Midweight Pants, and the Core Warmth Vest.
This combination really worked well in the 40-60 degree range and I really liked it overall. It was pretty quiet, flexible, durable, and warm, and it definitely sheds light rain. I climbed some serious mountains and busted quite a bit of brush. I was comfortable climbing trees with my climbing sticks and had no complaints when hunting in my saddle or hang-on treestand. I am not a big guy. I am 5'8″ and weigh 185 pounds. I wear a large in all Asio Gear tops and a medium in all pants (bottoms).
READ: Asio Gear Review: Lightweight Pants & Hoodie for Bow Hunting
Here are the Pros and Cons of each item I tested.
Asio Midweight Hoodie Review
The Midweight Hoodie is extremely light. It is very comfortable against the skin or when used as a layering piece. The material with its 4-way stretch is very flexible and I had no issues climbing trees or drawing my bow. I really liked the built-in mask and the hoodie itself was very comfortable and allowed for ease of movement in the tree. The half-zip front is great for air ventilation when hiking to your stand and it dries quickly after sweating in it. The material is very quiet.
There is only one thing I didn't like about the hoodie. It has a zippered rangefinder pocket that sits on your chest on the right side. It did not have a zippered pocket for a phone or any other items you may carry on the left side where a lot of garments like this normally have pockets. It is a small pet peeve and not a big deal in the big scheme of things. It does have a big kangaroo pocket where hoodies normally have them and this is a really nice feature.
This hoodie is very lightweight and should be used with layers as temperatures dip down into the lower 40s.
Asio Midweight Pants Review
The Midweight Pants with 4-way stretch are made of 90% Polyester and 10% Spandex. If you know anything about 4-way stretch, this material combination is almost a perfect combination of durability and flexibility. The durability is evident right away as the pants have a much tougher feel than the hoodie. I was able to go through a ton of thick brush and green briar without any issues.
The pants are very comfortable and I had no issues hiking, climbing trees, or moving around in the stand. The mesh zip vents were great for ventilation on long hikes into my stands and the taped seams and excellent zippers on all the pockets and zip vents really sets these pants apart from the competition. I was very impressed with the way the water just ran off these pants when it rained too. These pants will turn you into a pants snob (haha).
I do have some minor things I did not like. There are double pockets on each pant leg that are not cargo pockets. They sit directly on top of your thighs. The pockets themselves and the rain flap that sits over them are excellent, but I don't like having something bounce on the top of my leg while I walk and it can be uncomfortable to have something in one of those pockets pulled tight against the top of your leg when you are sitting.
I would highly recommend that Asio move these pockets to the side, but I'm thinking that the side zip vents would get in the way (and that's why they are in this specific location). I also think that the Midweight Pants fit a little tighter in the waist than the Sherpa-lined Pants that I'll talk about below, so if you wear an in-between size as I do (33-34 waist), you might want to adjust the size you select.
Core Warmth Vest Review
The Core Warmth Vest turned out to be one of my favorite pieces of gear. I never have used a vest for bow hunting before and now I don't know if I can ever hunt the mid-season without one. It just gives you the added warmth you need to take the chill off on days when you don't think you'll need a jacket and it is thin enough to layer with when it gets colder. I used this vest throughout the entire season and even used it on a 35-degree day that warmed up to 48 degrees in the late season.
It is 100% windproof and when I got caught 1.5 miles from my car at the top of the mountain in a downpour, it shed the rain very well and was completely dry inside when I got to my car. The quality zippers and taped seams really make this a high-quality vest. It is not as quiet as the Midweight Hoody, but it is very quiet considering it has built-in windproofing. It has a safety harness port on it and it has the same rangefinder pocket as the hoody. I was able to draw and use my bow without any issues. Great piece.
The only thing I did not like about the Core Warmth Vest is that it did not have the left breast pocket that I complained about with the hoodie. It did have two normal coat pockets, but even these had high-quality zippers with taped seams. Not much to complain about for sure.
Asio Mid-Season to Late-Season Gear Test
In Asio's Mid-Season lineup, I felt that the gear I talked about above could work down to temperatures under 40 degrees, but additional baselayers are definitely required. The Core Warmth Vest is an item you can and will use for both. The name speaks for itself, but the hunting clothes that really bridge the gap into the 30-degree and lower temperature range were the items I tested next.
I tested the Windproof Sherpa-lined Jacket, the Windproof Sherpa-lined Pants, and the Sherpa-lined Windproof Beanie. I did not test the Windproof Sherpa-lined Bibs, but based on my review of the pants, they are definitely a solid buy if you like bibs. I am just not a bib guy.
I wore everything including the Midweight Hoodie, Vest, Sherpa-lined Jacket, and Sherpa-lined Pants on multiple hunts in temperatures that went down into the mid-20s. This setup definitely bridges the gap between mid-season and late-season hunts and it wasn't as bulky as other layering combinations I've used in the past. The rain ran right off of my outer layers with this and it was a great overall combo.
Here are the Pros and Cons of each item I tested.
Windproof Sherpa-lined Jacket Review
My first impression when putting on the Windproof Sherpa-lined Jacket was that it was too thin to be warm. After using it I can say it is definitely warmer than I thought and it can be used with this layering system down to the high 20s with a solid base layer. I wore it over the Core Warmth vest in a large and the jacket in a large too.
I liked how tight it fit together and allowed for a lot less bulk in the tree. I saddle-hunted with it on without any issues. I carried this jacket with me as opposed to wearing it on my long hikes. With the windproofing, you will sweat badly if you wear it when being very active.
The jacket has taped seams and high-quality zippers and it has the one thing I have complained about that the hoodie and vest do not; it has the zippered left breast pocket for your phone and it has the rangefinder pocket as well. It has the safety harness port on the back just like the vest too. One of the things I absolutely love is the sherpa-lined pockets for your hands. These are very warm. I used hand warmers in the pockets on two different occasions and it was about perfect.
The only negative I can even think of is this is not a late-season jacket. Worn by itself, you will definitely say it is a mid-season jacket. In fact, with that in mind, you can wear it for a lot of the season and benefit from its windproof and highly water-resistant qualities. Great jacket overall.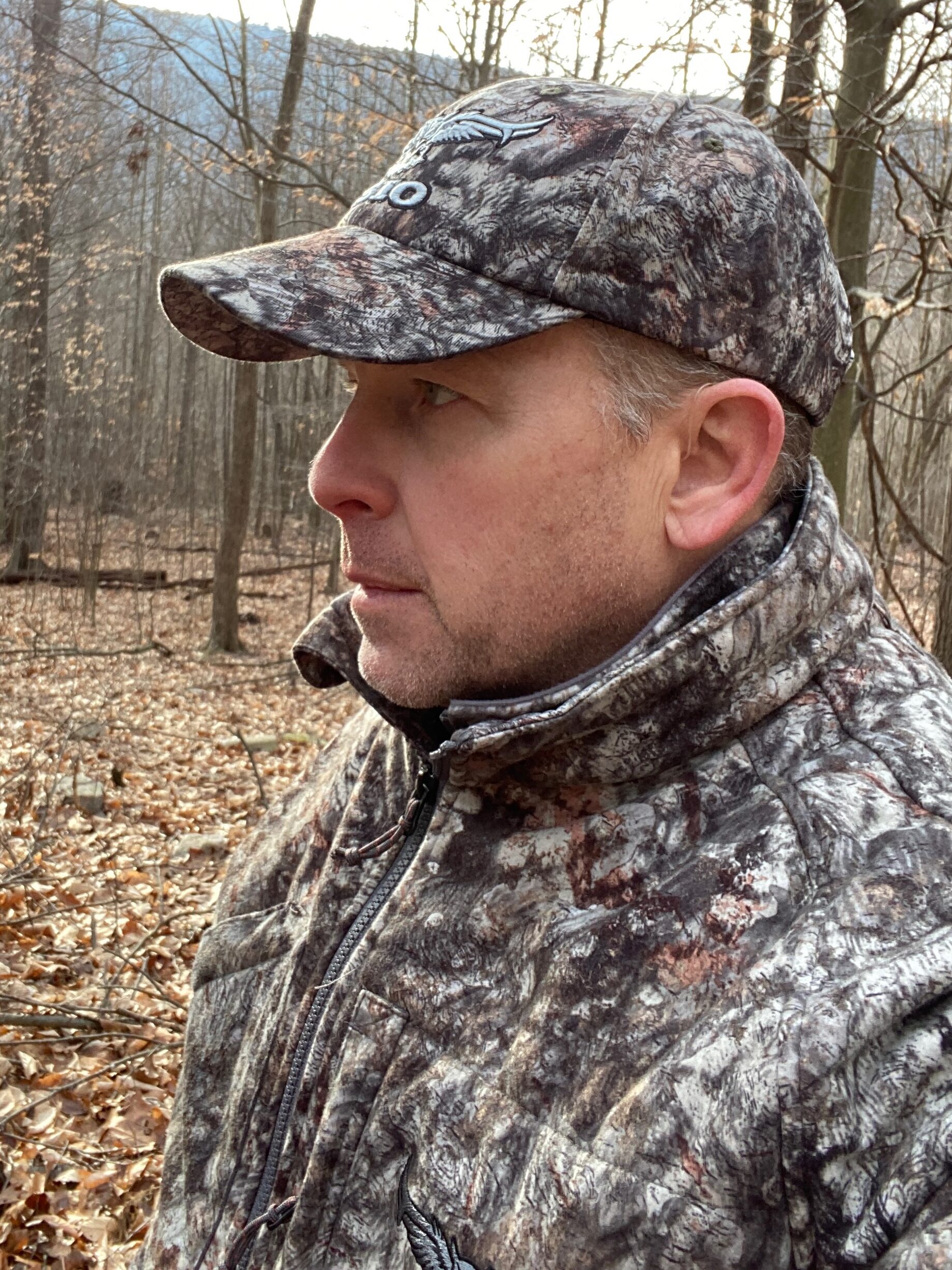 Windproof Sherpa-lined Pants Review
The Windproof Sherpa-lined Pants are very warm. I have never worn lined pants before wearing these and have always relied on thick pants with a very thick base layer. I wore these in ranges from 25-40 degrees. In the higher temp range, I didn't wear a base layer and they were excellent. The mesh zip vents on the sides were great for long hikes and the pants went through the brush without any issues. I
have a few small jagger holes, but that is it. They are definitely durable and the zippers are excellent, just like the other items listed above. Taped seams and all. The best thing was that they fit me well (size medium) and I was able to layer under without any issues. I definitely thought the fit was better with these pants versus the Midweight Pants (which were slightly tighter in a medium for me).
The only negative I can think of for the pants is the same as the Midweight Pants above. The double pocket setup that sits on the top of your thighs is not something I love. That being said, the Sherpa-lined pants are excellent. They are not as quiet as some of the other items, but when you add in the windproofing and durability aspects, you have to expect that a little. Overall I can't complain, these are great pants.
Sherpa-lined Windproof Beanie Review
The Sherpa-lined Beanie is definitely windproof and was a nice addition to the lineup here. That being said, I don't know if I would buy it again. I have the One Size Fits All size and it fits very snug to my head. I don't have a big head and wear a small 7 1/8 – 7 1/4 size ball cap.
You can feel the windproofing around where it sits on your ears and it really hindered my hearing. I am a disabled veteran and wear hearing aids. This didn't help my situation at all. The beanie is warm and it definitely blocked the wind. If you want to get it I suggest sizing up unless your head is smaller than mine. It works great, it just wasn't my favorite item.
Conclusion
This Asio Gear Mid-Season Bow Hunting Clothing Review was my first detailed test of an entire hunting apparel collection. I wanted to test hunting gear that was specifically built for treestand bow hunters and the Asio Gear collection fit the bill. While I found some small things here and there that I didn't like, the thing that stood out to me more than anything was the extremely high quality of the gear. The packaging you receive when it's mailed to you is very professional and as soon as you take it out of the package you will say, "Wow!" I was very impressed.
Asio Gear's quality compares to higher-end products I have from Sitka and Kuiu and is definitely a step above the gear I have from Huntworth and ScentLok. I definitely recommend the mid-season collection and as you can see from my review and field tests above, you can manipulate what they have to fit where you hunt and the temperatures you hunt in.
If you have any questions or comments about the review, please leave them below. Thanks!
*Our website is supported by our users. We operate independently and do not provide Sponsored content. We sometimes earn a small commission when you click through the affiliate links on our website. We appreciate your help. Contact Us for More Information.